Pioneer School won another team trophy at Deer Park's Winterfest Scholastic. With their top four averaging 4.0 each, sixteen points was more than enough to prevail over Northwest Christian (12.5) and Saint George's (11.5). The individual competition offered another study in the application of tie-breaks.
Close competition among Spokane's youth players has made tie-breaks a theme this year. The top section finished with three players at 4.0. Logan Faulkner beat Garrett Casey in their individual game during round three, but in the next round, Logan lost to Kamden Doud, who then lost to Garrett in the last round. Every one of the tied players beat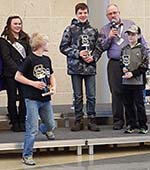 one of the others. In the cumulative tie-break, Kamden had the highest score and Garrett the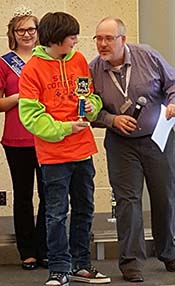 lowest. But, the first tie-break is Solkoff (strength of opposition). Garrett edged Logan 16 to 15.5, and Kamden finished third with 14. The third tie-break, opposition cumulative, also had the players in order of Garrett, Logan, and Kamden. Thus, Garrett took home the trophy for First Place. Logan won Second Place. Kamden won the trophy for Top Sixth Grader. Annie Alvarez won the trophy for Top Fifth Grader. Her losses were to Garrett and Logan. Also finishing with 3.0 and taking home trophies were Christian Diacogiannis (Top Eighth Grader), Quillen Brown (Top Seventh Grader), and Dylan Boyle (Biggest Upset).
In K-4, Aniketh Parlapalli finished with a perfect 5.0 and won the First Place Trophy. Tie-breaks determined second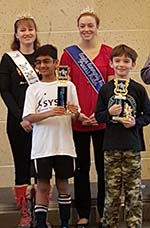 place. Connor Gosselin-Harris and Varun Ambalavanan both finished with 4.0 and did not play each other. Varun's sole loss was to Rohan Dhillon in round two, while Connor was perfect until losing to Aniketh in the final round. Losing in earlier rounds directly affects the second tie-break and usually has an impact on the first. Consequently, Connor won the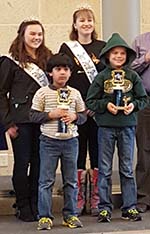 Second Place trophy and Varun went hime with Top Fourth Grader. Rohan, who lost to Connor and Aniketh, went home with the trophy for Top Third Grader. Sarah Gunn (2.0) won Biggest Upset.
Two players finished atop the K-2 section with 4.0 and they played each other, Arnav Wadikar and Colby Jessup. As it happens, their head-to-head is reflected in the second tie-break, and Arnav, who won their individual encounter, also had the strongest strength of opposition. Arnav's loss, however, was to a player who lost to Colby, Elizabeth Arquette. Arnav won First Place. Colby won Second Place. Cyler Jessup (3.5) took home the trophy for Top First Grader. His only loss was to Arnav, and he also won against Elizabeth (3.0). Jaxon Tayler (2.5) won the trophy for Top Second Grader. Preston Sevigny (2.5) won Biggest Upset in that section.