Inland Chess Academy

Results of Rook's Ruckus
Scholastic Chess Tournament
Hosted by First Presbyterian Church
February 18, 2017
Detailed cross-table results.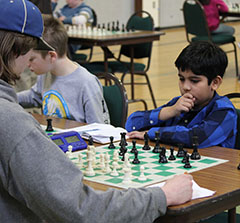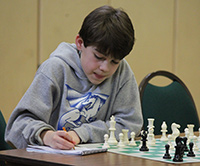 ~ by James Stripes
Chess is a mindsport where focus can beat experience, where older youth do not always have the advantage against younger. At the Rook's Ruckus Tournament 18 February 2017, three players elected to play up with older students. One second grader opted to play in K-4, instead of K-2. He won the top prize. Two others, a third and fourth grader, have been playing in the K-12 section most of the season. Both did well. The oldest student, a high school senior, lost only to the third grader and to the winner of the section, a fifth grader who also happened to be the highest rated player in the event.
Varun Ambalavanan, Spokane's highest rated player active in scholastic events, suffered a single loss in each of two January tournaments. At the Rook's Ruckus, he took care of business and finished with a perfect 5.0, which should push his NWSRS rating over 1500. Aniketh Parlapalli (4.0) finished second. These two won trophies for top in the section. First place in 5th grade went to Mathew Wasson (3.5), who prevailed over Robby Witmer (3.5) on tie-breaks after the two drew their round five game. Also with 3.5 was Connor Gosselin-Harris, the fourth grader. In places 6-12 were seven players who finished with 3.0. Arnav Wadikar placed sixth based on tie-breaks. Among this group, trophies were awarded to Drew Lindh, top high school player; Christopher Bruceri, top middle school; Malia Brown, first in sixth grade; and Seth Vandergriend, upset trophy.
Tie-breaks were vital in determining winners in the other two section. Both had three players with 4.0 at the top. In K-4, Adrian Rooney beat Cole Knapton, but lost to Oliver Ling. Oliver lost to Cole. With a perfect circle of wins and losses among the top three, mathematical measures of the relative strength of their other opponents determined the prizes (see link at bottom of article for an explanation of these measures). The tie-breaks put Adrian, the second grader, on top. Oliver took second place in the section, and Cole won the trophy for first place in second grade. Six players finished with 3.0, sharing places 4-9. Alex Marsh (3.0) won the upset trophy. Colton Thomas (3.0) was the top third grader.
In K-2, Creighton Condon beat the other two players who tied him with 4.0. Although the head-to-head tie-break usually fails to resolve three-way ties, it would have worked in this case for first, but not to distinguish second from third. Solkoff--strength of opposition--usually accounts for head-to-head, and did so in this case. Creighton took home the top trophy for the section. Matthew Hou (4.0) won second place, prevailing on tie-breaks over Tiernan Waggoner, who won the trophy for first in second grade. Alex Lucas (3.5) handed Creighton his only loss, but lost to Matthew. He won a trophy for second place in grade 2. Yashas Hithalamane (3.0) won first place in kindergarten because his tie-breaks were stronger than Hattie Condon, the other kindergartner with 3.0. A coach, who analyzed the game between Hattie and Matthew with the two players, observed two moments where the young girl missed a checkmate in two. The competition among the top seven players was very close. Most games could have gone either way.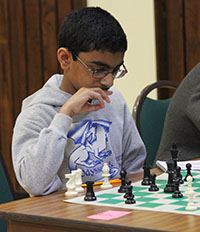 Libby won first in the team competition with 16.5 scored by their top four. A second place team trophy went to Cataldo with 12.0 team score. There were 56 youth players representing 22 schools. Five schools had four or more participants.
Seven parents participated in the adult event. Anand Wadikar was perfect with 3.0, while Kyle Gosselin-Harris, Shakar Achanta, and Felicia Boyle each finished with 2.0. The Wadikar family took home a chess book because their combined parent-child score of 6.0 edged out the 5.5 earned by Kyle and his son.
For detailed information of Swiss Tournament tie-breaks, see James Stripes, "Swiss Tournament Tie-Breaks" (http://chessskill.blogspot.com/2016/02/swiss-tournament-tie-breaks.html).