FOOL'S MATE ~ April 1, 2017
Hosted by Hope Lutheran Church
Detailed cross-table results
~ Article by James Stripes ~ Photos by Felicia Boyle
See more pictures on Inland Chess Facebook.

The Fool's Mate Youth Chess Tournament had eleven players sharing first place across four sections. The event was held 1 April 2017 at Hope Lutheran Church in Spokane Valley. Fifty-one youth players representing twenty-three schools competed across the four sections. As the 2016-2017 scholastic chess season's end draws near, near equality on the top boards has become the year's theme. Not only are most of the top players proving themselves capable of beating any of the others, this season has the largest number of players with ratings above 1400 in the past fifteen years.
In the top section, four players came into the event with ratings above 1400, another was just below that mark. In addition, three new players without NWSRS ratings, but with FIDE and New Zealand ratings strengthened the competition. As the FIDE to USCF conversion formula put the newcomers all near 1500, this rating estimate was used for pairing purposes. Benjamin Nylund (number 13 in his age group in New Zealand) finished with 4.5 as did Varun Ambalavanan. They drew each other and beat their other opponents. Tie-breaks gave first place to Benjamin and second to Varun. Tied for third place with 4.0 each were Alex Herron and Mathew Wasson. Alex's only loss was to Benjamin; Mathew's loss was to Alex. First place in high school went to Alex, the highest rated player in the section. Mathew took home a scorebook as his prize. First place in sixth grade went to Kolby Uhlenkott, the top 3.0 on tie-breaks. Also with 3.0 was Ryan Lamb, who took home the trophy for first in middle school. Scoring 3.0, but going home without individual prizes were Kevin Nguyen, Arnav Wadikar, and Timothy Nylund. Gabrielle Lee won the biggest upset trophy.
The road to greatness is strewn with obstacles. When these obstacles are strong opponents, everyone grows in strength. In the K-5 section, the top four rated players were all within a few points of 1100 NWSRS. Three of them tied for first. Ben Barrett won the first place trophy due to the strongest tie-breaks, even though he lost to Tom Albretch, who took home the second place trophy. Vishal Achanta beat Tom, and won first place in grade five. Vishal's only loss was to Ben. Once again a perfect circle of three--each beating and losing to one of the others-- reveals the complexity of tie-breaks. There were two players with 3.0 in that section. Cole Conway won the trophy for first in grade four. Matthew Hou could not compete for a grade level trophy as a second grader playing up, but took home a scorebook as his prize. Tyrel Tyborg won the upset trophy.
Competition was so fierce in the twelve player K-3 section that 3.5 points put each of five players in a tie for first. Mary Wang, the only player without a loss, won the first place trophy. Second place went to Andy Bao. Two of the remaining three won their respective grade level trophies. Joshua Schoenberger was first in grade three and Alex Lucas was first in grade two. The remaining player in the five-way tie at the top, Rishi Achanta, took home a chess book. Shane Teilborg won the upset trophy.
The six-player K-1 section was played as a round robin and produced the only clear first place winner. Owen Worsfold took home the trophy for first as a consequence of winning four of his five games. However, half of the six players tied for second with 3.0 each. Yashas Hithalamane, the only one to beat Owen, won first in kindergarten. Eshan Reddy, playing in his first tournament, won first place in first grade. Henry Cartwright took home a special prize that was not a trophy, but that put a smile on his face.
Anand Wadikar won all three games to finish atop the parents group. Three parents finished with a single loss each. The prize was a book awarded to the Wadikar family for the 6.0 combined score of parent and child. As Shankar Achanta and his top scoring child also finished with 6.0, they took home the latest issue of Northwest Chess.
The Odyssey Program at Libby won the team competition with 13.0 combined top-four scores. The second place team trophy went to Priest River Home School (11.0), the family that recently moved to the area from New Zealand. Farwell (9.5), Cataldo (8.5), and Hope Lutheran Home School (8.5) rounded out the teams with four players.
~~~
SPRING BREAK TOURNAMENT
April 6, 2017
Hosted by St. John Vianney
Elementary School
Detailed cross-table results
Our mission
Chess in every school . . .
chess in every home.
... instruction, coaching,
and tournaments.
Login:
Chess Magnet School
Chess Kid
~~~~~~~~~
ICA Tournament Policies
Benefits of Chess

Chess Resources Links
James Stripes's Chess Blog
Inland Chess Facebook

2016 World
Championship
Magnus Carlsen
retains his title.
Fool's Mate
Serious Fun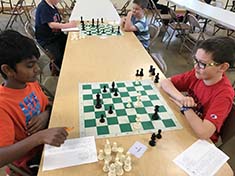 Preparing for
State by
playing strong
opponents.