Inland Chess Academy

Results & Review of
BISHOP'S SACRIFICE
Scholastic Tournament
March 18, 2017
Hosted by ...
St John Vianney Elementary School
Detailed cross-table results

~ by James Stripes ------ See pictures on Inland Chess Facebook.
More than 165 games of chess were played at St. John Vianney School in Spokane Valley, Washington on 18 March 2017. The Bishop's Sacrifice Youth Tournament had four youth sections and a parents' competition. There were 150 youth games 15 games played between parents. In addition to these rated games, many casual games were played in-between rounds by those in the competition.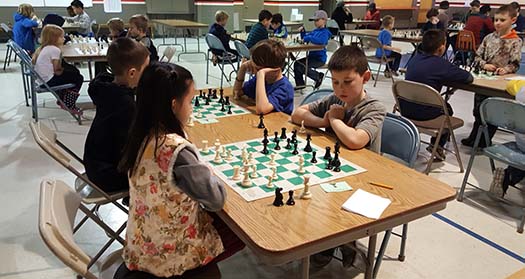 FM Jim Maki saw more of these games than anyone as a consequence of devoting most of the day to game analysis as more than half of the sixty youth players brought their game scores to his table. James Stripes also saw several dozen games as he provided game analysis when other duties did not interfere. Judges on the playing floor saw parts of many games. One game judged checkmate by the players featured a position that could not be reached legally. However, in accordance with a firm non-interference policy, the judges did not interrogate the players with the intent of discovering how a king on f4 could be checked both by a knight on h3 and a bishop on c1. That the king had no escape was clear to the players and judges present.

Another game featured a deft bishop move by the player of the Black pieces. After he moved his bishop to c6, there were threats towards White's pawn on f3. Each player had a rook on the open e-file. White could have taken Black's rook, but that would have allowed Bxf3+, when the Black bishop would be forking White's queen and king. Black's threats included an exchange off rooks on e1, which would have deflected White's queen from its defense of f3. The game ended with checkmate a few moves later. Black's coach was pleased to see how his student coordinated pieces in attack.

Alex Herron finished with a perfect 5.0 in the K-12 section. Varun Ambalavanan (4.0) lost to Alex in round four, but won his other four games. He took the second place trophy. Evan Craciun (4.0) won first in seventh grade. He finished behind Varun on tie-breaks largely because his loss came in round two, leading to slightly easier pairings. Cameron Simonds (3.5) was first in grade six; Christopher Bruceri (3.5) was the top eighth grader. Aiden Oos-MacFadden won biggest upset with an astounding 648 point gap between his rating and that of one of his victims.

Seven of the sixteen players in K-5 could have played in K-3, but opted for stiffer competition. Three players finished on top with 4.0 each. Benjamin Johnson drew both of the other two, winning first place on tie-breaks. Vishal Achanta and Rohan Dhillon also finished without a loss, both drawing Benjamin and one other player. Vishal was second on tie-breaks, and Rohan took home the trophy for top fourth grader. Cole Knapton (3.5), who lost to Benjamin in the first round, won three straight before drawing Rohan in the last round. He took home a trophy for his efforts. Matthew Hou (3.0) won the upset trophy for that section.

Brax Proszek, playing in his first scholastic tournament, won first in the K-3 section with 4.5. Second place went to Elijah Tobin, the only 4.0, and Brax's fifth round victim. Grade level trophies went to Zihan Wang (3.5), second grade, and Rishi Achanta (3.5), third grade. Andy Bao (3.0) won the upset trophy. The K-3 section was the largest with twenty players. Most were in grades two and three, but included one kindergartner. He finished with an impressive 3.0. As a consequence of such competition, Yashas Hithalamane should be well prepared for the state tournament six weeks from now.

With only six players, the K-1 section was played as a round robin, rather than a Swiss as the other sections. Henry Cartwright (4.5) gave up a single draw to Nicholas Lucas, beating all the others. Nicholas won the kindergarten trophy. Ethan Lactot and Collin Craciun drew each other and both lost to Henry. As a consequence of his other draw being against a player finishing higher in the standings, Ethan won the first grade trophy.

Team competition was hot with seven schools represented by four or more players each. Libby again won top honors with 14.0. All Saints School earned their first team trophy with a 13.0 second place finish. Shakar Achanta was perfect in the parents section. Combining his score with his highest scoring son gave them a solid 7.0, winning a chess book.