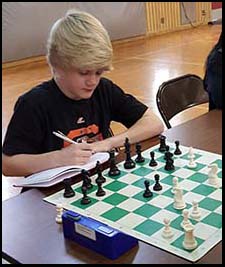 Garrett Casey 5.0 pts, 1st Rooks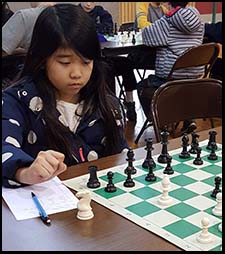 Kara Chiang 5.0 pts, 1st Bishops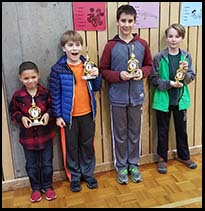 Biggest upset winners.
Four perfect 5.0 scores topped the four sections of the 51 player Groundhog's Shadow youth chess tournament on February 6. Garrett Casey won the open section that included every player in grade five and above, as well as a third grader playing up. Second place in that section went to Logan Faulkner (4.0). With 3.0 each, Annie Alvarez won the fifth grade trophy, Alexander Nicolazzo won the sixth grade trophy, and A.J. Stenbeck won the sixth grade trophy. Troy Sheikh, also with 3.0, won the trophy for biggest upset.
The second section consisted of fourth graders and one second grader playing up. Kara Chiang finished first with 5.0. In second place was Aniketh Parlapalli (4.0). Isaac Pooler (4.0), third overall, took home the grade level trophy. Liam Reeves won biggest upset.
Olivia Hilton had the perfect 5.0 atop the large K-3 section, while Ananya Parlapalli (4.0) won second place. Rohan Dhillon (4.0) took home the trophy for third grade. Ben Barrett (3.0) won the second grade trophy. The biggest upset prize went to Benjamin Johnson.
Eight first graders competed in the K-1 section. Noah Lueck won first with 5.0. Adrian Rooney was second with 3.5. Florence Cooper took home the grade level trophy. The biggest upset prize went to Tiernan Waggoner.
Pioneer was the top team with 16 points from the combined scores of their top four players. Saint George's had only three players present, but managed second in the team standings with 12.5 points. The Oaks, Cataldo, and Roosevelt also had strong team performances.
The Hilton family won the parent-child team award because Olivia's 5.0 added to father Jeff's 1.5 edged out Arnav and Anand Wadikar with 3.0 each.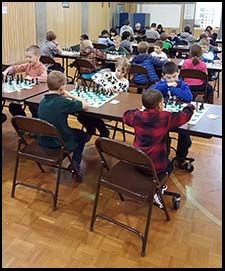 Sixty three chess players, including twelve parents, had plenty of room in the Calaldo Gym.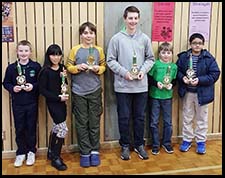 Grade winners.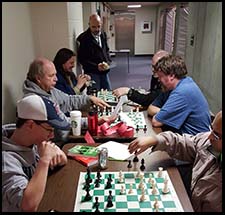 Parents at the analysis table with International Master Jim Maki, second up on left, while the student play.